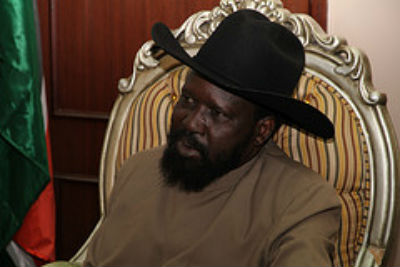 Congratulatory Message to H.E the President!
Date: 14/10/2013
From Thiang Community Association in Phom El Zeraf, Fangak County.
Fangak County, October 18, 2013 (SSNA) — Thiang community would like to congratulate His Excellency the President, General Salva Kiir Mayardit, on the recent prudent decision of pardoning thy beloved son, Gen. Gabriel Gatwech Chan (known by the name Tanginye) from his detention cell. We are very thankful to the president for this wise decision he has made at this critical juncture in our country's history as we face the daunting tasks of nation building.
The country currently faces myriad challenges of enormous proportion and thus needs everybody's contribution. The people of Fangak County in general; and Thiang community in particular, to whom Gabriel belongs, at various levels, are/have been celebrating this good gesture of peace and opening of a new chapter from H.E. the President by releasing their beloved son. This gesture of goodwill from the president must be reciprocated by the released (military) generals by contributing positively to the tasks of nation building process.
We would like to seize this glorious opportunity, once again, to thank the President and his team and hail him for always putting the interest of the people of South Sudan above other petty issues!! Those who wanted to see these generals detained indefinitely so they could carry out their dirty works without them are now put to a great deal of shame!! The people of Fangak County are joyously celebrating the release of their son, Gabriel Gatwech Chan, along with other colleagues.
Long live General Salva Kiir Mayardit!!
Long live the people of South Sudan and the New Republic!!
Gatluak Mot Garang, Chairperson
Thiang Community Association in Phom El Zeraf, Fangak County