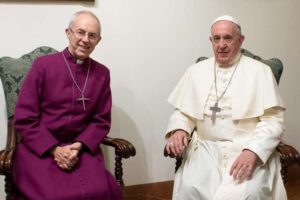 Juba, December 27, 2020 (SSNA) — Pope Francis and Anglican Archbishop Justin Welby of Canterbury have called on South Sudan's political leaders to fully implement the peace agreement.
In a joint letter seen by the South Sudan News Agency (SSNA), the church leaders said they will visit South Sudan, urged President Kiir, First Vice President Dr. Machar, and other leaders who are parties to the agreement to start trusting each other, and asked them to give the people of South Sudan the peace they deserve.
"We have been glad to see the small progress you have made, but know it is not enough for your people to feel the full effect of peace," the letter reads in part, adding, "…yours to bring your country to a smooth implementation of the peace agreement, and ours to visit South Sudan in due course, as things return to normalcy."
The letter bears the signatures of Pope Francis, Anglican Archbishop Justin Welby of Canterbury, and a Presbyterian minister and moderator of the General Assembly of the Church of Scotland the Rev. Martin Fair. Archbishop Welby hosted a retreat for the South Sudanese government and opposition leaders in April 2019.
South Sudan's civil war has killed nearly 400,000 people. The church leaders plan to visit South Sudan next year.